Apply first aid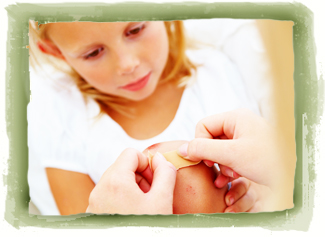 This section looks at some of the skills and knowledge related to applying first aid in a child care centre.
Every children's services worker plays an important role in providing and promoting a safe environment for children to play in and explore their world free from harm. In the event of an accident, trained staff are able to apply appropriate first aid. If an emergency or natural disaster occurs at the centre, the children and staff will be well rehearsed in the procedures required to ensure, as far as possible, the safety and well-being of everyone at Cybertots.
Cybertots Child Care Centre requires all parents/guardians to complete a set of forms detailing their child's medication requirements, immunisation record, medical history and emergency contact details. The forms provide a very important source of information in the event of an accident or emergency. You can look through the Forms section on the Cybertots Intranet to see what information is collected.

The information contained in this section does not take the place of completing a first aid course.
In some states/territories completion of a Senior First Aid course is mandatory to gain employment in the child care industry.